10.04.
19:00 - 23:00
Franz Ulrich, Kassel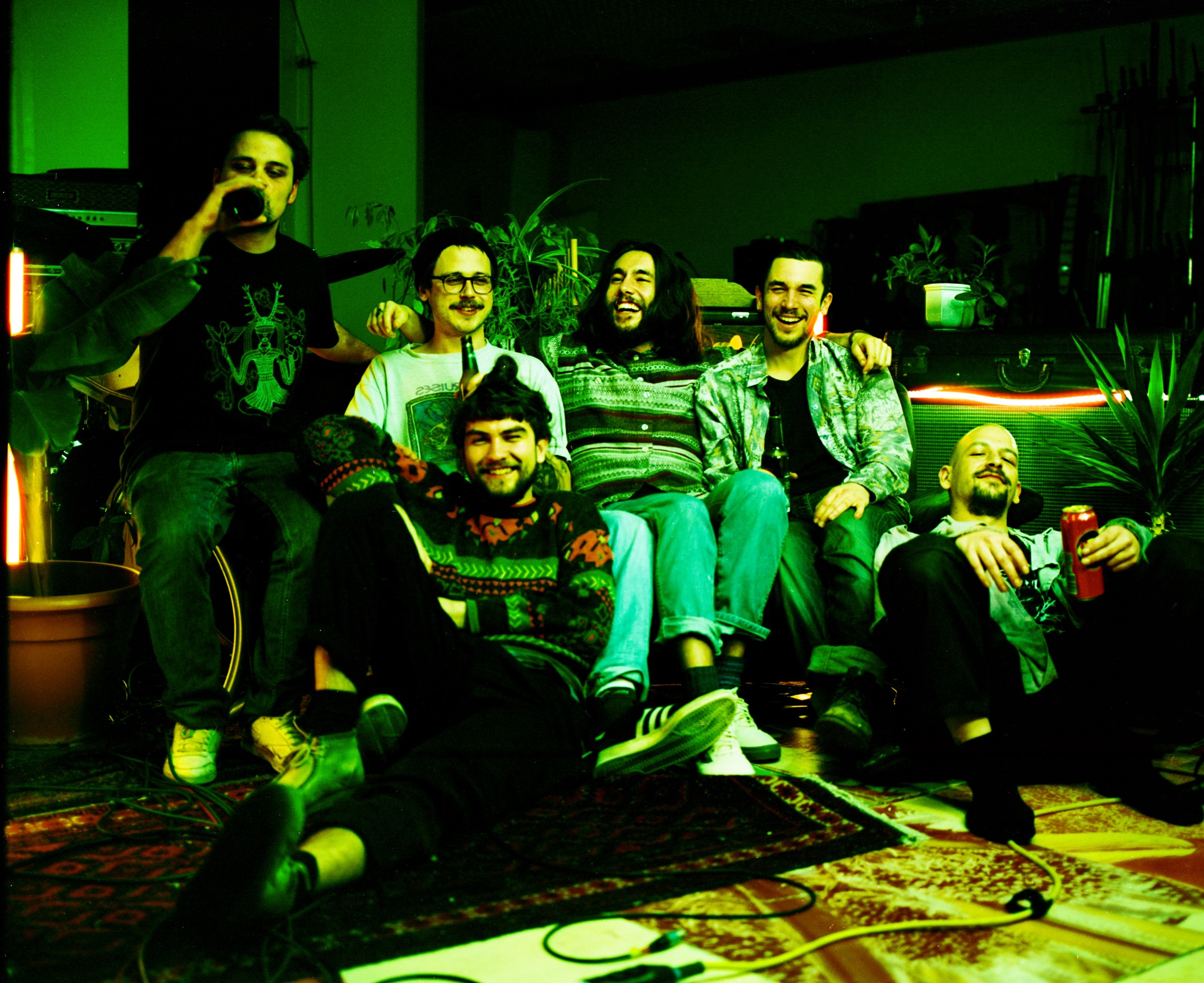 Takeshi´s Cashew
Humans in a Pool Tour 2022
Go to your record shelf and pick out that quirky (andunforgettable!) folklore vinyl you once found on a fleamarket somewhere on your travels. And now imagine that sound being
complemented by vintage synthesizers, flutes, twangy surf guitars, a hell lot of space echo … & electronic downtempo beats!
Takeshi's Cashew (Laut&Luise, Berlin) are a newly formed psych-funk group that explore the boundaries of club culture, world music & 70's psychedelia. All coming from different musical directions, they create a colorful fusion of their respective genres embedded in a club-like beat framework and elevate their often complex arrangements to a beautiful & danceable potpourri.
During summer 2020 Takeshi's Cashew recorded their debut album "Humans In A Pool" in their tiny diy-studio in Vienna.
This self produced record will take you on a journey into cosmic krautrock, cumbia, afrobeat & disco, which can only be surpassed by one of their live performances.
District Five (Support)
District Five durchbrechen die Grenzen der Generationen. Math-Rock, Post-Punk, Jazz, Electronica, Filmmusik: So lauten die Eckpfeiler eines neuen Sounds, mit dem die vier Zürcher Vordenker festgesessene Stilbegriffe endgültig verlassen und ihre eigene Avantgarde zu bilden beginnen. Diese Musik heisst denn nicht mehr Jazz, bedeutet aber auch nicht Pop. Nein, vielmehr ist ein Prozess vom Finden neuer Freiheiten und setzt zugleich ein Zeichen ungemeiner Diversität sowie langjähriger Freundschaft. Oder in den Worten der Band: «Searching together through music for something like freedom in a trapped world".
District Five break through generational boundaries. Math-rock, post punk, jazz, electronica, film music: those are corner stones of a new sound through which the four visionaries from Zurich are permanently leaving gridlocked genres behind and begin to build their own avantgarde.
This music isn't called jazz anymore, yet that doesn't mean it's pop either. No, in fact it is rather a process of finding new liberties and at the same time it sets an example for diversity as well as long-lasting friendship.
District Five brisent les frontières de leur generation. Math-rock, post-punk, jazz, electronica, musique de film: voilà les contours d'un son nouveau avec lequel les quatre zurichois ont laisse derrière eux tous codes stylistiques préétablis pour commerncer à bâtir leur propre avant-garde. Ce n'est là plus du jazz, plus de la pop. C'est plutôt d'un processus don't il s'agit, celui consistant à trouver de Nouvelles libertés, tout en étant le signe d'une grande diversité rt d'amitiés de longue date. Selon le groupe lui-même: "Searching together through music for something like freedom in a trapped world".
Line-Up
Tapiwa Svosve – Alto Saxophone, Synth, Vocals Vojko Huter – Guitar, Vocals
Xaver Rüegg – Bass
Paul Amereller – Drums
Live Video: https://www.youtube.com/watch?v=pigJy7qQFuw&list=PLl- CRSATZiXQDODUvDA16mO9Jkpu9H2lG&index=2
Website: http://districtfive.band
Instagram: https://www.instagram.com/districtfive.band/?hl=de
Facebook: https://www.facebook.com/districtfive.band/
Bandcamp: http://districtfive.bandcamp.com
Youtube: https://www.youtube.com/channel/UCis1FjXgWJGiO9yeNqcjSmg/featured Spotify: https://open.spotify.com/artist/33JBpQrHusPaqAcfi63iYH? si=ZdoBjBRZQGevuEZ3JyoPiw&dl_branch=1&nd=1