26.07.
18:00 - 19:00
K.Format Glaspavillion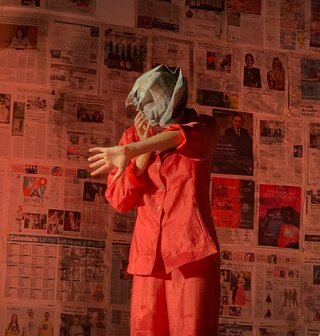 Ort: k.format Glaspavillion Kurt Schuhmacher Straße 29a, Kassel
New Reality" papers the space with newspaper, creating a landscape whe-re the body is camouflaged on stage. A series of images that proposes a reflection on the media and our daily life. With the aim of creating unique and unrepeatable experiences. Ephemeral art that helps to a new interpretation of reality. A twenty-minute show featuring a physical theater actress and a sound artist. An experience for all audiences, where the performers make different proposals that the audience collects and moves to their personal imagination, opening doors to new interpretations.

Las Maleantes is a multidisciplinary company that explores and works on different possibilities of creating through performing and sound arts by the use of new technologies. The restlessness and the constant need to investigate artistic trends, motivates them to form a network of professionals from various disciplines, with the aim of creating their own language.