14.02.
22:00
Panoptikum Club ( Leipzigerstr. 407 Kassel )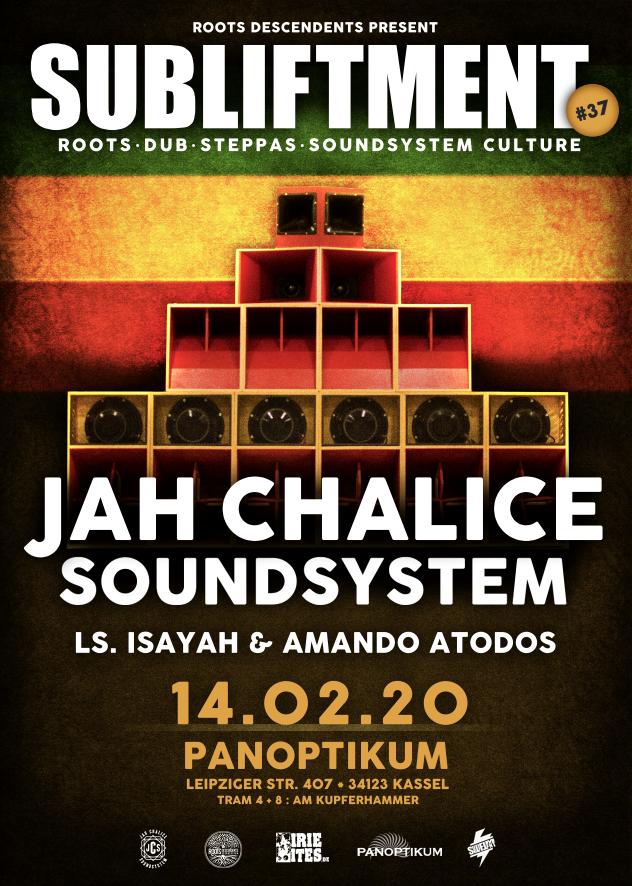 DUB // STEPPAS // ROOTS // REGGAE
Roots Descendents Soundsystem
invite the original Dub Edutainer
/// Jah Chalice Soundsystem ///
all the way from Freising for the very first time in Kassel!
For some years we wanted to bring them to the city with their own self built boxes!!
/// JAH CHALICE SOUNDSYTEM ///
https://www.facebook.com/jahchalice/
/// ABOUT ///
Jah Chalice Soundsystem
the Dub Edutainer – on the Kings Highway since 2007
Jah Chalice Soundsystem was formed in 2007 in Freising, a little town near Munich Germany. Inspired by Jah Music and Soundsystems like Kibish Tribe, Dandelion, Jah Free and Jah Roots, we decided to play music in an original soundsystem style, which means to play on handcrafted boxes and with live mixing equipment as a self-made preamp, sirens, effect units and a theremin.
We are literally taking the music back to the studio during a session so we can mix it live to ensure we can react realtime on all vibes. For a soundsystem it is very important to make the crowd feel the music, that is the reason why we started to build our own boxes, to make sure lower frequency will not only be heard but felt in a new way and to guarantee a unique sound.
The music we play goes from Roots, Dub, Steppers on to pre-releases and own productions. Our crew consists of Idren G (selector), Yohannes Chalice (operator), Lukas (micman & visuals), Ras Facility (boxlifter & light) and our singer Isayah who joined Jah Chalice in summer 2009.
In 2017 we established our own Record Label called "Jah Chalice Records", releasing and promoting heavyweight Dub Productions from southern Germany.
/// INFO ///
date: februar 14st
gates open at 22:00
location: Panoptikum Club Leipzigerstr. 407
Kassel
=====
no sexism, no homophobia, no racism, no discrimination!!!
strictly respect…
ALL TRIBES WELCOME!!!