18.08.
18:00 - 19:00
Café DesAStA, Kassel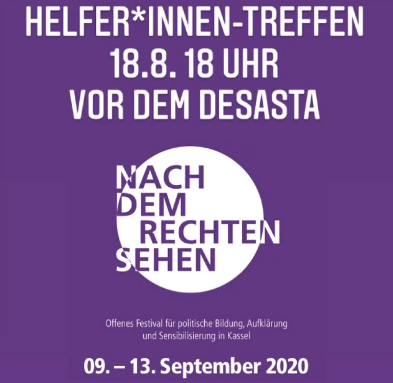 Das Nach den Rechten Sehen Festival 2020 findet wieder statt! from 09. To 13. September werden wir in und rund um den Nordstadtpark wieder mit euch nach dem Rechten sehen. Hierfür brauchen wir – insbesondere in Zeiten von Corona – wieder viele fleißige Helfer*innen vor Ort.
Es gibt wie gewohnt Schichtpläne – aufgestockt mit Coronaschichten, die sich rund um die Einhaltung der Hygienerichtlinien drehen und außerdem eine Telegramgruppe, in die ihr euch alle eintragen könnt, um auf dem Laufenden zu bleiben und um etwas flexibler zu sein 🙂
Therefore we want to hold a meeting for all helpers before the festival, where a few important hygiene facts are explained and we can distribute layers and ribbons.
We'll need people from Wednesday noon (09.08.) for assembly up to and including Sunday afternoon for dismantling. further activities: Possibly. Sprinter driving, Entry controls, Hygienekram, coffee- and beverage tent layers, etc…
Come by and sign up -
It doesn't work without you! :sunglasses:
For organizational reasons there are two meetings:
(I) Wednesday, 18.08.20 um 18Uhr am Desasta bei Limo und Bier für erste Einweisungen, Schichten rund ums Hauptprogramm und
(II) Monday, 07.09.20 ab 18Uhr mit Limo, Bier und Decken im Nordstadtpark für die Nordstadtpark / Zeltlager Instructions und Schichten.
Bleibt dran und bleibt gesund! :v: