24.07.
11:00 - 22:00
North Stadtpark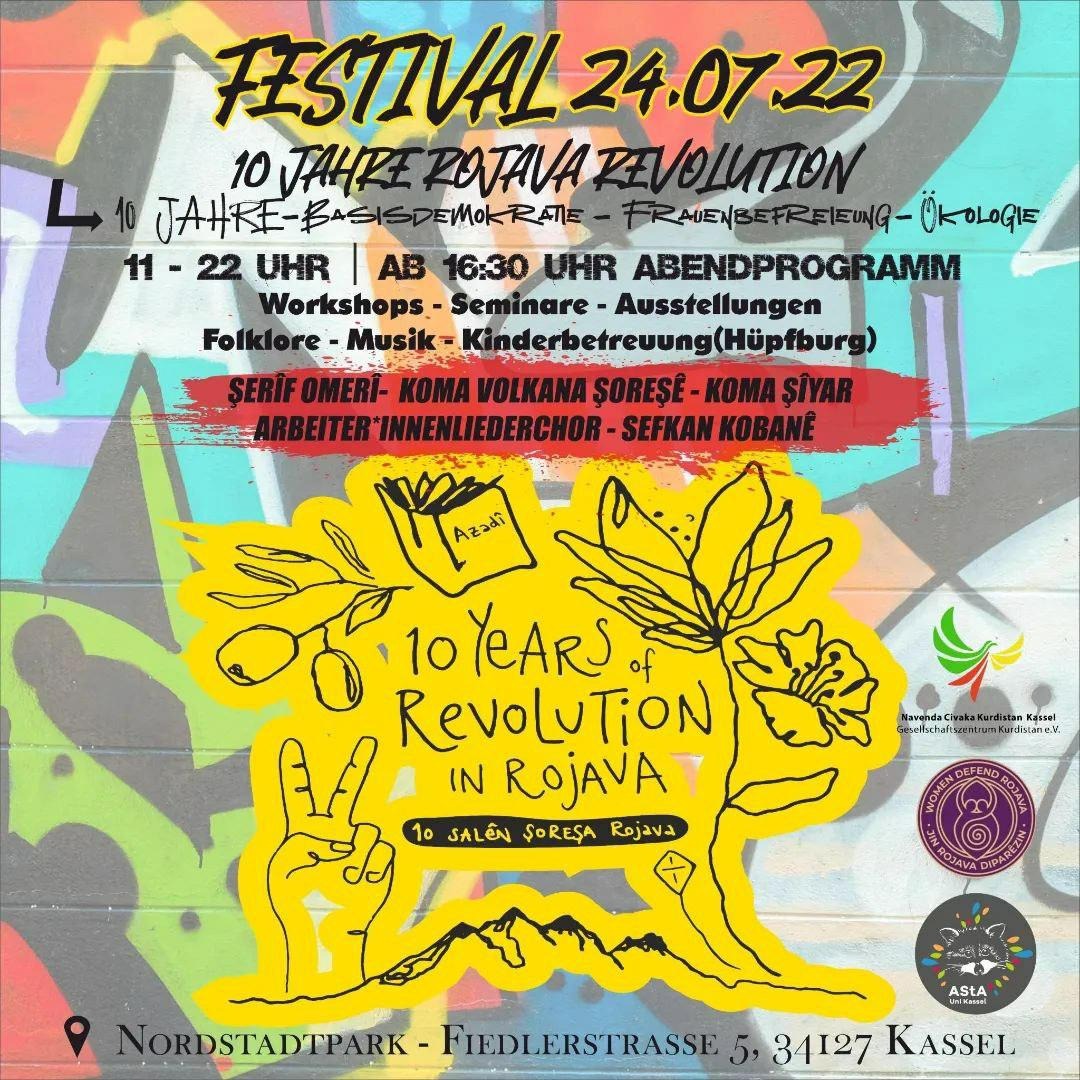 We want to invite you to the summer festival: Am 24.07 we celebrate our just and deserved victory together in the Nordstadtpark, big and small 10 anniversary of Rojava!
From 11-16 clock we offer (WDR Kassel) 2×2 Workshops an and take up various aspects of the revolution, to connect and connect with us. We would like to exchange ideas with you about and with perspectives of the Kurdish movement. At the same time, a Kurdish and Turkish language program will take place (s. flyers below).
From 16.00 there is a common program. There will be an input on the current war threats against Rojava. Afterwards there will be a celebration, danced and ate.
Come in large numbers, bring your friends with you – even just for individual things, a little visit or the whole nice day. Let's celebrate it and celebrate the spirit of this revolutionary achievement. It's lebe Rojava!
Infos:
When : 24.07.22; 11 – 22 Clock
Where : Nordstadt Park – Fiedlerstrasse 5, 34127 Kassel
German language program from WDR in the information tent:
11:00-13:00 book presentation: We know what we want (FLINTA * only)
11:00-13:00 Input on social ecology in the context of Rojava (allgender)
14:00-16:00 Autonomous organizing workshop (FLINTA * only)
14:00-16:00 exchange and input: What does internationalism mean from an international/migrant perspective? (allgender)
Info below: https://wdrkassel.noblogs.org/
Explanation: The term FLINTA* includes women, Lesbians, Inter*persons, non-binary people, trans*people and agender*people.