05.08. - 14.08.
15:00 - 19:00
Stellwerk, Kassel
multiple days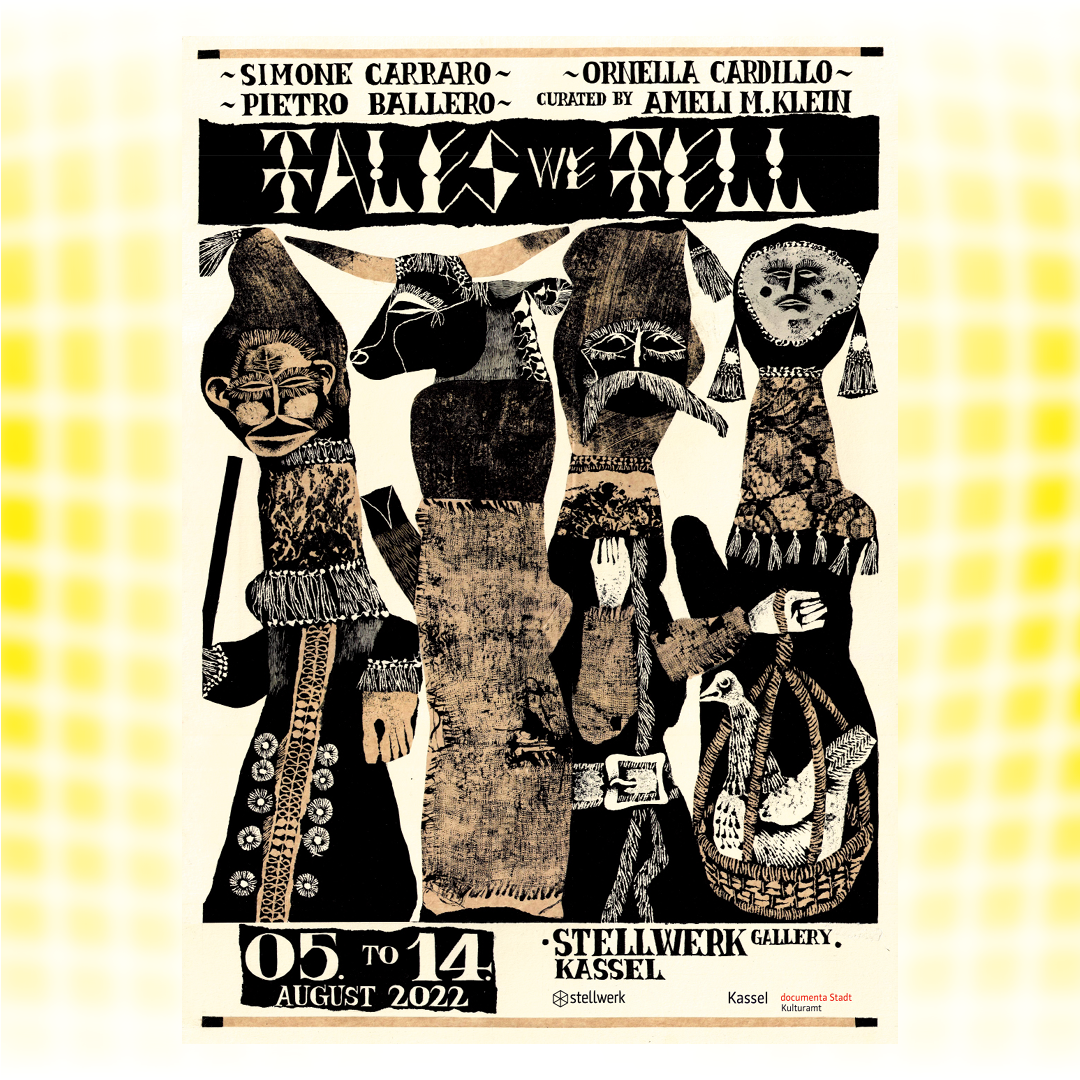 opening: 05.08., 19 Clock, Opening times: Saturdays, Sunday, 15 – 19 Clock
Simone Carraro lives and works in Venice. Fascinated by the symbolism of ancient bestiaries, scientific papers and the tabloids, he explores the interaction between image, icon and font. His work is strongly influenced by the places and contexts, with whom he comes into contact. Indeed, his work is a symbolic transcription of reality, which is preceded by a careful observation of the elements of the landscape. During the examination, which enables him, to create a symbiosis between his work and the surrounding context, he focuses on naturalistic, historical-cultural aspects and the dynamics of relationships between the inhabitants of the same habitat. mural painting, graphic, Installation and musical performance are the means, with which Carraro distant pasts, archaic and rural worlds, that fades in memory, but unconsciously rooted in the landscape, brought to life, however, moving away from folkloric evocation, but on the contrary in "viewer wants to trigger a connection between historical memory and today's reality, a nostalgic feeling, not as regrets from the past, but should be understood as a questioning of the present.
Ornella Cardillo comes from Modena and graduated from the IUAV University in Venice, where she currently lives, graduated in fine arts and fashion. Her artistic practice includes drawing and collage, but focuses mainly on sculptural works, which manifest in pupae. For Ornella, the doll is the ideal link between the world of art and the world of fashion. Her sculptures are characterized by essential and geometric shapes, who become the perfect wearers of extravagant clothing, that refer to a circus and dreamlike images of childlike sounds and colors. Her work questions the categorization of visual arts and crafts by institutional structures. what are the limits, that such hierarchical structures affect the artists and the audience, that we can achieve, impose?
Pietro Ballero's works collect references from contemporary iconography, inevitably contaminated by a hypertrophied visual ecosystem, to observe the current revolution through the scars of collective memory. The attempt, mediated by a linguistic translation operation, consists in, to experience the birth of the world from a decentralized perspective. In the context of a community, dominated by the dynamics of late capitalism, which puts the ontological dimension of man in the foreground, his practice rests mainly on accumulation and collection. He believes in objects as the result of an economy of relationships: In the way, how a person arranges things in space, they can become an external expression of individuality and thus contribute to the production of reality. His research is currently focused on the experiment, to observe the ever finer and more imperceptible tissue, that interweaves the IVL dimension with the IRL/AFK dimension. In doing so, he deals with the tensions surrounding the concepts of biopolitics, psycho-emotionality, Hyperinformation, conspiracy, time, working conditions, Performance and precariousness apart.