"Black clouds darken the sky" – one way or another, the political observer becomes mute, when she goes for a walk in the Dannenröder forest these days and stands at a NATO wire fence in front of a sea of ​​police helmets, while behind it a forest is being cut down. A comment.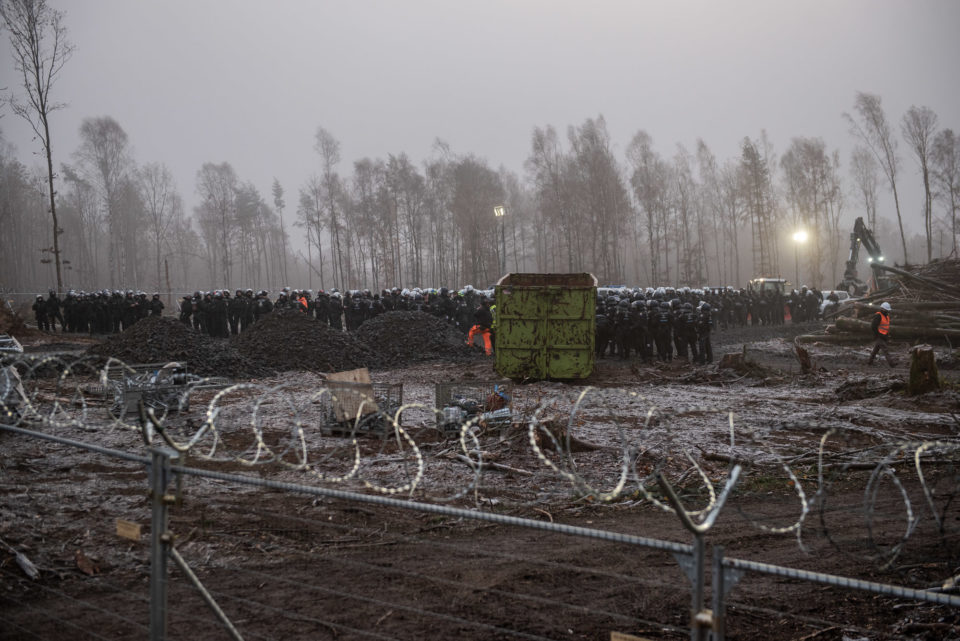 A militarily secured clearing eats its way through the small forest in the Vogelsbergkreis from two sides. The army, which is going on here, has given up absolutely nothing: Hundreds of trains on standby, Preservation of evidence- and arrest units, Special task forces, Tear gas grenade launcher, hundreds of minibuses, Night vision devices, Pistols, pepper spray, stick, Clearing armor, Area illumination, Lifting platforms, water cannon, Taser guns, NATO wire, Surveillance drones, Helicopter, gymnasiums converted into barracks, Offroad-Buggys, fortress-like container castles, Roadblocks, Lattice cages. Nobody would be seriously surprised, if this police army had also bought a container with assault rifles and grenades, "Just in case". If there is a militarized German police state, then he is currently showing his full strength in the Dannenröder forest. And he enforces the Hessian forest law with every possible means, one of the more subordinate legal interests.
This seemingly absurd mission is flanked by a propaganda machine, who hides behind the unobjective empty phrase "press team". The Hessian police are simply working desperately on their image here, because world fire, Beat up teenagers and throw them from trees, are rather difficult to convey. So two officers lurch either in the strip- or combat suit every day of action at the borders between fakenews and front journal back and forth. With a hard-to-bear farmer's cleverness, which has always been common to desk criminals, give every insane action of your troops a subsequent license.
And there is not too little of these actions. According to reports from the forest, the average police officer in the standby unit is ready for one or the other sadism: Beaten up activists, a battered church observer, nocturnal SEK thugs, Officials urinate on stuck squatters, arbitrary arrests, Destruction of property of the activists. Police officers severed marked safety ropes several times, causing tree squatters to fall. So far, none of this has had any consequences for the police.
The list of mean things could go on and on, It is not surprising in this great situation of fool freedom. Especially since the Hessian police recently did not make themselves known through a politically liberal orientation, as the numerous neo-Nazis in their ranks and their officially researched death threats prove.
The opposite side
The question arises, against whom this armed Biedermeier army in balaclava is actually fighting to enforce property rights and forest law. There sit around on the opposite side 200 Tree squatters in the treetops, who basically address all companions with "Menschis", an average age of approx 18 Years and make an effort to treat others and the environment with care. Young people, who try to solve one of the greatest political problems of our time with a healthy dose of idealism - climate change. People, whose ability to use violence is only enough on average to throw a poop bag. The hostility to the police in the forest, that go beyond a level of nuisance, can be counted on two hands over the past year of activism.
In case anyone ever asked the question, what the left thesis of the fascization of the state is all about, and whether the ex-eco party "The Greens" would take part, we can as of November 2020 determine: And, is there & and, she would. A militarized state apparatus under the leadership of a green state government is cutting down a forest for an economically pleasing motorway and beating every eco-activist in the country on the way. There are Ferrero, car industry, AfD, Green, SPD and special task forces agree. Who could have thought that up a year ago?
Lessons from the play, which is currently being performed in the Dannenröder forest, haven't moved yet. The author of these lines would have suggestions: Everything is dispensable in capitalism, what stands in the way of profit; the greens are neither left nor ecological; the police are the turning screw of militarization and state fascization; who sits on a tree, has good cards, to be thrown to their death by civil servants.
Information about the occupation can be found online on the Cast website, on her twitter- Account and of course on site at the vigil in Dannenrod.
---