Am 20.11.2021 an event took place at the University of Kassel on the occasion of the Trans Days of Remembrance. On this day all victims of trans-hostility worldwide are commemorated.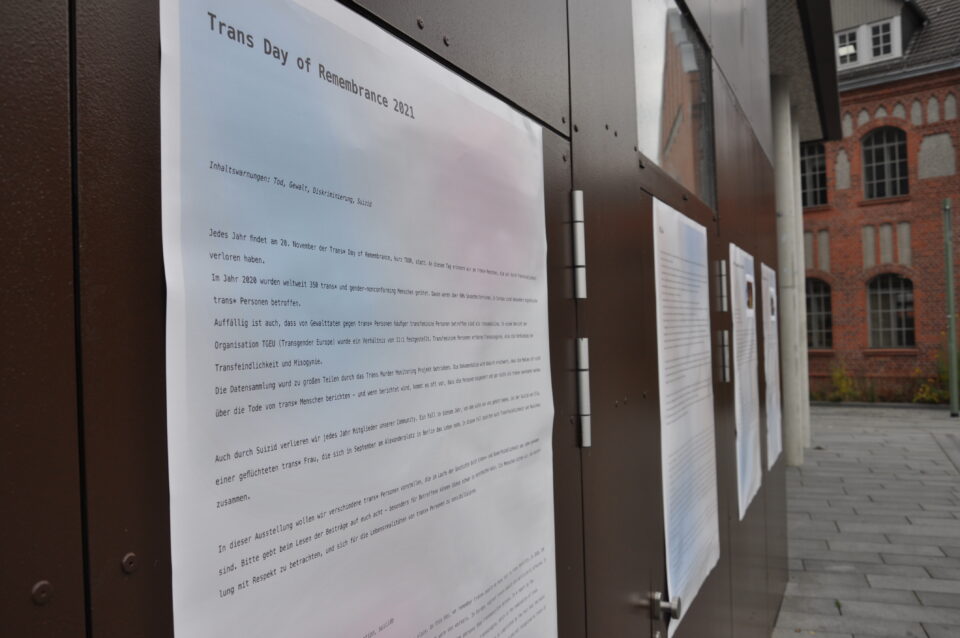 Das autonome Queer* Referat der Universität Kassel hatte am Samstag zu einer Ausstellung eingeladen, in der die Biografien von ausgewählten trans Personen vorgestellt wurden, die Opfer von Transfeindlichkeit wurden. Außerdem beinhaltete die Ausstellung weitere Informationen zum Thema Transfeindlichkeit. So wurden im Jahr 2020 worldwide 350 trans und gender-nonconforming Menschen getötet. Besonders gefährdet seien dabei trans Personen, die in der Sexarbeit tätig sind, sowie migrantische trans Personen.
Das Queer* Referat hat sich in der Ausstellung auf die Daten des Trans Murder Monitoring Projekts bezogen, was seit 2008 Daten zu den weltweiten Morden an trans Personen sammelt. Mittlerweile hat das Referat die Ausstellung online zur Verfügung gestellt.
Zum Abschluss der Veranstaltung wurde ein Kurzfilm mit dem Titel "Remembering those lost, fighting for our futures" (deutsch: "An die Verlorenen erinnern, für unsere Zukunft kämpfen") vorgeführt, der auch online angeschaut werden kann.