On Saturday, the 17.10.2020 found in front of the initial reception center Kassel-Niederzwehren, the quarantined last week on Friday, a vigil is held. Participated in this about 50 people.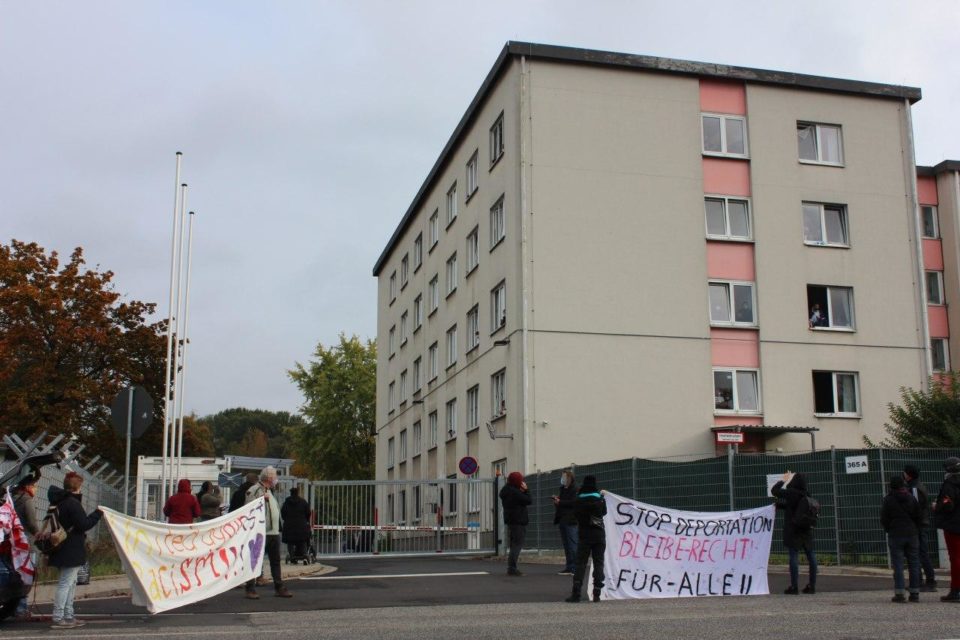 In front of the gates of the initial reception facility, the participants in the vigil demonstrated their solidarity with the residents. The latter expressed their displeasure with the catastrophic living conditions in the accommodation. Some residents reported furiously from their windows, that the limited space, on which the 301 People have to live, isolating the infected and keeping a distance- and make hygiene measures impossible. Again and again, drum noises could be heard from kitchen appliances and protest calls from residents.
Despite the arranged separation of the infected from the non-infected, the often dirty sanitary facilities would have to be shared further, report the residents. In addition, the medical supply situation is not sufficient. Desperate about the inadequate food supply, some residents threw food on the street, which had already expired at the time of issue.
The previously unbearable living conditions in the camp would have worsened due to the corona situation, so the residents. In addition come, that the residents are largely left in the dark about official measures. Some non-infected residents would have had to leave the accommodation in buses, without knowing, where they will be taken.
"We can't take it anymore, it feels like a jail!"


A resident
The panic of the residents increases. A resident complains: "As foreigners we are treated like animals" and like "sheep herded together". Again and again people told bitterly about their experiences of violence and the fear of it they had fled, to be left to die now in the initial reception facility, because adequate medical care has not and will not be available.
The call for support, a permanent decentralized housing as well as a generally decent life was loud again and again. The real problem is the overall precarious situation, in which the refugees are in constant fear of repression and deportation.
According to the HNA, a larger group of people who tested negative were moved to another accommodation on Saturday. However, the reports from the residents of the property make it clear, that it must not remain in the sense of a noticeable and self-determined improvement in their living conditions.